February 2019
On the cover of Gothic magazine no 88!
November 2018
Do you know the german vintage magazine Der Vintage Flaneur - Das Mode- und Lifestyle Retro Magazin?
It is a very lovely magazine, and I am on the cover of the actual edition no 31!
September 2018
I am very proud to be one of the headliners of the Bavarian Burlesque Festival:
July 2018
Follow me on instagram:
www.instagram.com/xarahvondenvielenregen
May 2018
The Dead Sexy Club is back!!! Party with us 16th June in Groningen:
April 2018
I am very proud to present you my new production, together with El Tigre Blanco, Club Salvador at Parktheater Eindhoven!
March 2018
When do you visit us in Berlin?
1st March - 29th April 2018: www.flicflac.de/freaks
January 2018
It is always a pleasure and honour to be in that yearly 21st Century Burlesque list. Thanks everybody who voted for me! I am so proud and happy to be in the Top20 of 2017 of European Burlesque, with all these amazing performers!
http://21stcenturyburlesque.com/burlesque-top-50-2017/#charts
And don't miss the Femme Fatale Cabaret, Xarah's newest production in Amsterdam: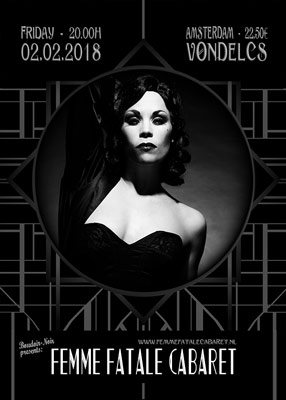 December 2017
Xarah is part of the Flic Flac show FREAKS!
November 2016
Xarah is the covergirl of the Burlesque calendar 2017 by Verena Gremmer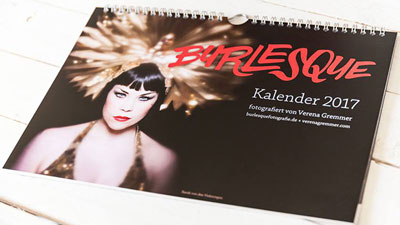 October 2016
Xarah is performing with the amazing Tigre Blanco during their "Tijgersnest" tour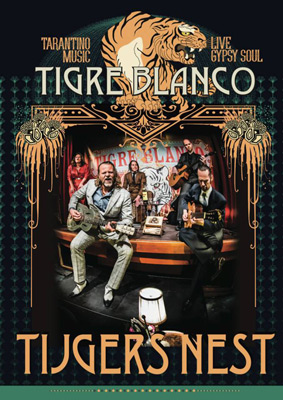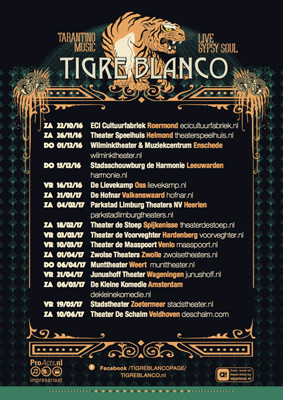 May 2016
the first edition of Xarah's newest production: the Blue Moon Cabaret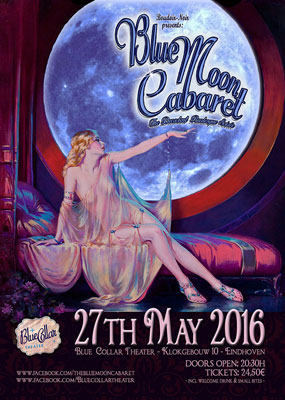 April 2016
Xarah is on tour with The Firebirds

January 2016
I am very proud to annouce, that I have been voted #8 in the TOP10 list of European Burlesque Peformers 2015 (21st Century Burlesque):
http://21stcenturyburlesque.com/burlesque-top-50-2015-europe-top-10/
November 2015
Don't miss the 2nd Annual International Amsterdam Burlesque Award 2015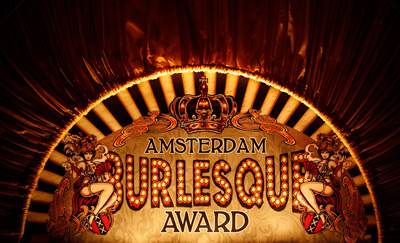 January 2015
I am more than proud to announce, that I have been voted #39 of the worldwide Burlesque TOP50 in 2014 (21st Century Burlesque):
http://21stcenturyburlesque.com/burlesque-top-50-2014-50-31/
December 2014
Xarah's new production: the Dead Sexy Club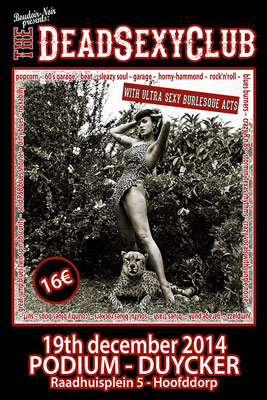 November 2014
Don't miss the first Annual International Amsterdam Burlesque Award 2014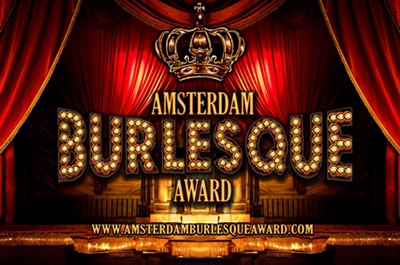 October 2014
Xarah is the covergirl of the the Queen Calavera calendar 2015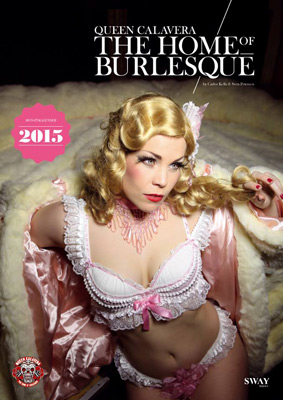 January 2014
This is incredible, I have been voted into the worldwide TOP50 of Burlesque in 2013 (21st Century Burlesque):
http://21stcenturyburlesque.com/burlesque-top-50-2013-50-31/
October 2013
Xarah on the cover of the Queen Calavera calendar 2014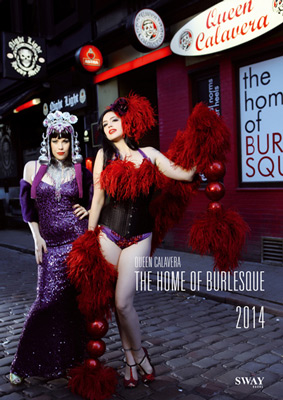 July 2013
I am proud to be part of the he Burlesque Assassins movie:
with awsome Koko La Douce, Roxy D'Lite, Kiki Kaboom, Armitage Shanks, Kitten Deville, Kellita, Scarlett Martini,
Reneé La Roux, Amber Ray and Xarah von den Vielenregen!

May 2013
Just arrived home after a fantastic week-end in Milan. I can't tell you how proud I am to have won the "Best Performer 2013" at the MILAN BURLESQUE AWARD!
Thanks a lot to the jury (Dirty Martini, Mitzi von Wolfgang and Bioux Lee Hayes), the amazing audience, all the other performer who did fantastic shows, and congratulations to my dear friend Koko La Douce, who won "First Runner Up" and Peggy De Lune "Most Comic Act".
It was great to meet you all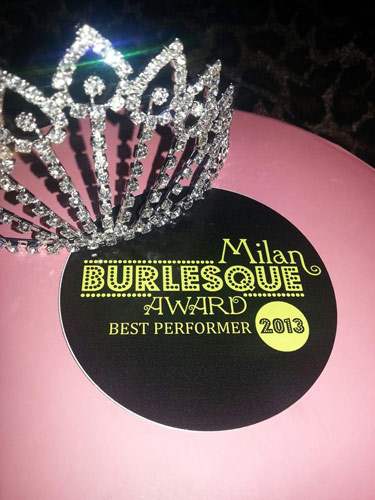 February 2013
get your (signed) vintage burlesque postcard set of Xarah von den Vielenregen: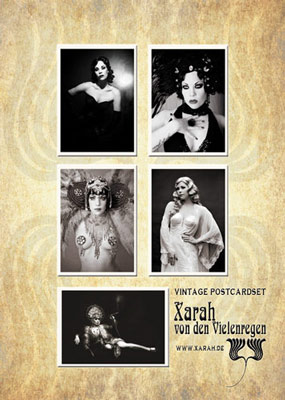 December 2012
Xarah is part of the European christmas campaign of WE fashion 2012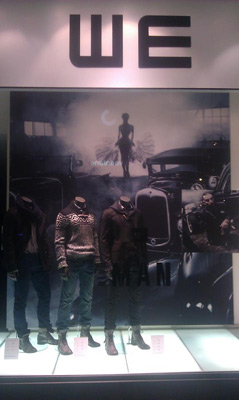 October 2011
The Burlesque Bible is already out for a couple of months and I totally missed that they put me in the "Who' s Who in Burlesque -
Just a few of the famous and the beautiful of today and yesteryear. Jo Taylor reads the A-Z of stars..." I am more than proud to find me between 35 other international burlesque beauties like:
Dita von Teese, Josephine Baker, Immodesty Blaize, Julie Atlas Muz, Scotty the Blue Bunny, Sherry Britton, Vicky Butterfly, Roxky DLite, Catherine D'Lish, Phyllis Dixey,
Diexie Evans, Anna Fur Laxis, Kiki Kaboom, Imogen Kelly, Kitten on the Keys, Jo King, Kittie Klaw, Kalani Kokonuts, Michelle L'Amour, Gypsy Rose Lee, Jennie Lee, Mimi Le Meaux,
Missy Malone, Dirty Martini, Perle Noire, Sally Rand, Tura Satana, Lili St Cyr, Blaze Star, Tempest Storm, Satan's Angel, Tigger, Lola The Vamp, Kitten De Ville and Bettie Page!!! ;-)
Just a few of the famous and the beautiful of today and yesteryear. Jo Taylor reads the A-Z of stars...
XARAH VON DEN VIELENREGEN, Germany
Xarah von den Vielenregen is an international fire burlesque starlet from Berlin, who is perhaps better known as "The Chameleon of the Night". Xarah has recently returned to Europe from working on her role in Canadian director Jonathan Joffe' s debut full-length feature film Burlesque Assassins, in which her many talents will be showcased. Set in the dark depth of the Cold War, Xarah and the other Burlesque Assassins are recruted by Johnny Valentine (Armitage Shanks)and set the unenviable task of saving the world from the threat of Communism. What's that? You haven't heard about the Burlesque Assassins? Well you will soon...Forget about Christina Aguilera, it's the likes of Xarah von den Vielenregen you want to be watching out for now. Our Xtina may be able to sing and dance (for some extent at least) - but, with all respect, would you want her in your team when you're facing a trio of villainy bent on global domination? No, you wouldn' t. You'd want Xarah."
April 2011
Just back from Calgary from my film shoot for Burlesque Assassins...
Read a brandnew interview for Cover Up! Newsmagazine by Dan Davis:
"Das Model Xarah von den Vielenregen gehört sicherlich zurecht neben Größen wie Dita von Teese zu den größten Ausnahmetalenten, wenn es um eine gepflegte Form von Burlesque geht..."
and do not miss this party:
BURLESQUE CIRCUS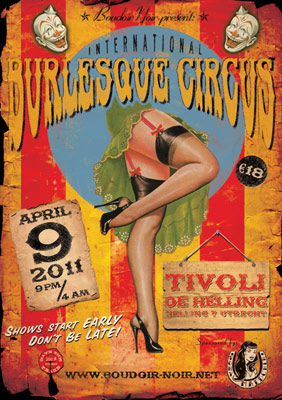 November 2010
on the cd cover of Kirchenbrand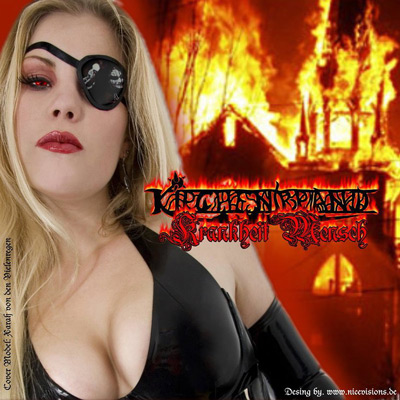 October 2010
Xarah is available as 1000 pieces puzzle Blue Brigitte of the Bibian Blue series of Schmidt Spiele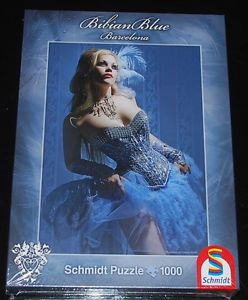 August 2010
Xarah is in the new Zillo Gothic Fetisch calender 2011 and the new week calendar Girls & legendary US cars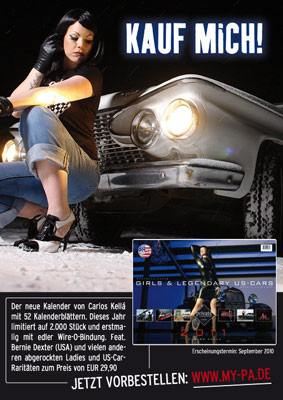 June 2010
photos of me in these books:
Laugh, Cry & Scream and Berliner Luft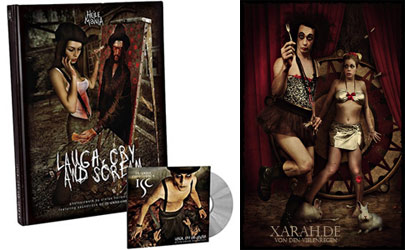 October 2009
on the cover of Schlagzeilen magazine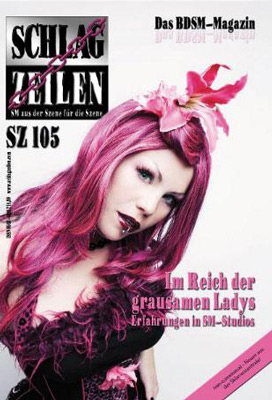 September 2009
in the Schnieke Geschöpfe 2010 animal protection calendar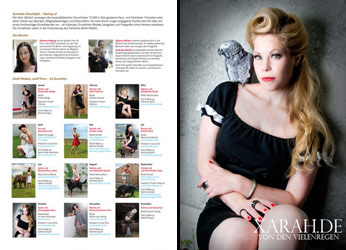 January 2009
Xarah is on the cover of Gothic Lifestyle magazine
and in the new german Playboy magazine is an article about my work as burlesue teacher at burlesque dance studio Schoenheitstanz....:-)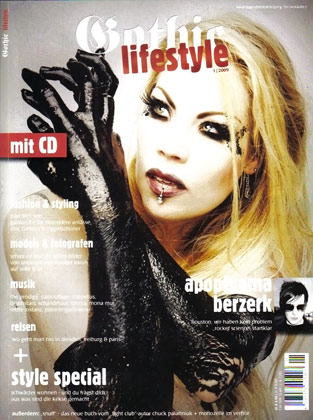 November 2008
on the cover of the new album of Bacio di Tosca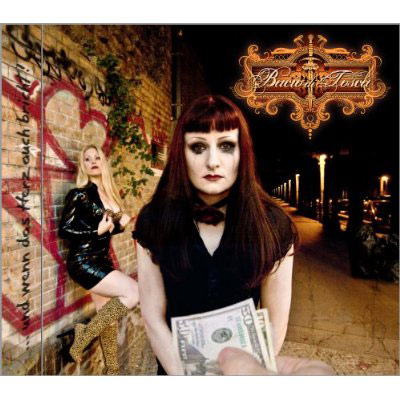 October 2008
on the backtray of the new Templar CD: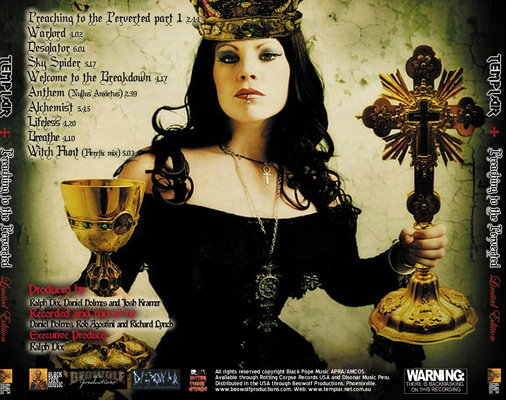 September 2008
Xarah chess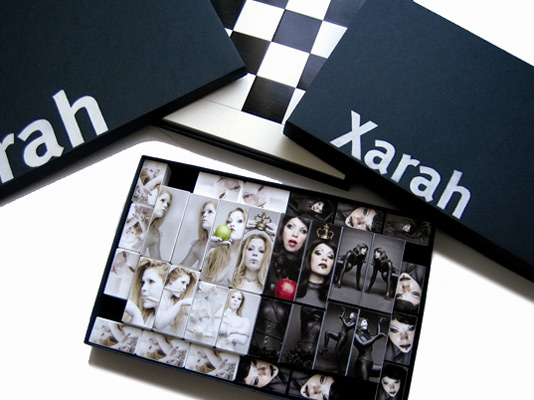 July 2008
starting in july, there will be monthly burlesque workshops in Berlin's first burlesque and pole dancing studio Schoenheitstanz.
The theme of my workshops is "how to become a diva" you don't need any basics - only the interest in burlesque...;-)
June 2008
I had a great shoot for the new hat designs for Feisty Cat, check this store, and watch out for the glamorous new hat collection appearing in the next weeks!
If you understand german, read this cute article about me at Prinz myspace cultureguide: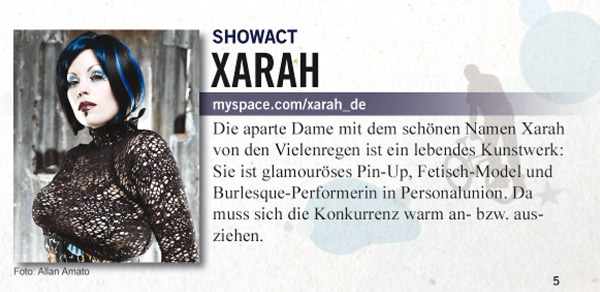 June 2008
Xarah is covermodel and interviewed in Nylonzine no.24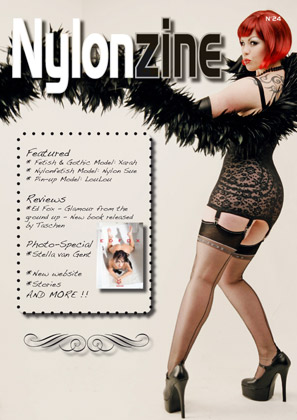 May 2008
Xarah on the cover of ukrainian underground magazine Sacratum and you also can read an interview with me in it.
and some other great news! my LA-trip is booked now, I will be in Los Angeles at april 9-30 if you want to work with me, just write me an email.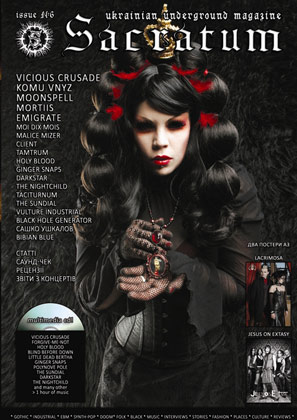 February 2008
check out the new issue (no. 96) of german Schlagzeilen magazine and read an article about me and my art.
and the new single of Nik Page is published now, with the voices of Haydee and me ...:-)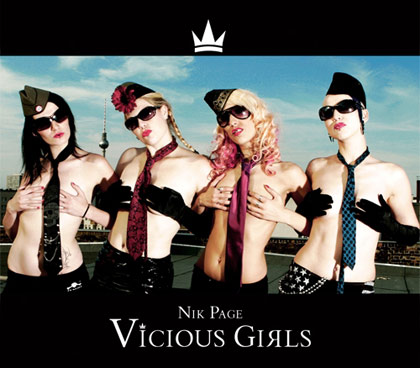 September 2007
Xarah as painted covergirl at Airbrush Magazin 04/2007 - buy it and read more about the development of this painting from Kalli Haun.The painting is available as limited high quality print edition, for more information write to info@xarah.de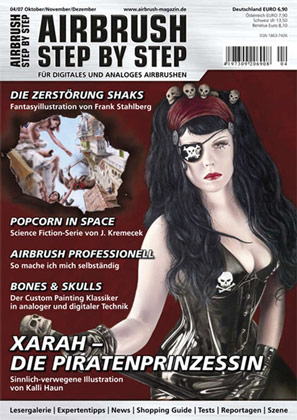 May 2007
watch out for the new Dark Spy magazine (no. 17) - there's an interview with me in it!
April 2007
I'am on tour in Russia with the finnish gothrockband Two Witches!
Shooting for the band Desir Marie: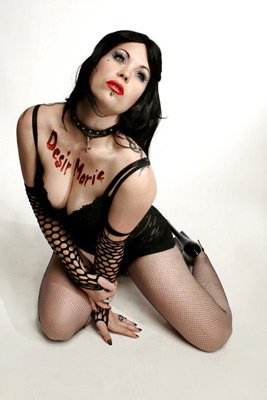 January 2007
Xarah goes comic! See xarah as one of the dark spyderettes - the x - in the Dark Spy magazine by great artist Eve Blood!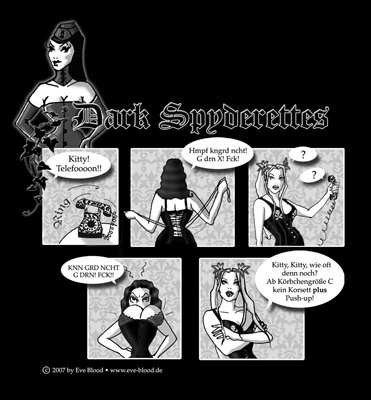 September 2006
on the cover of the new single of Terminal Choice: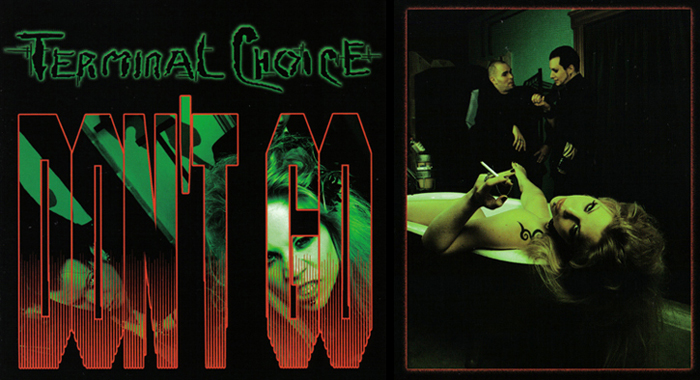 May 2006
band shooting for And One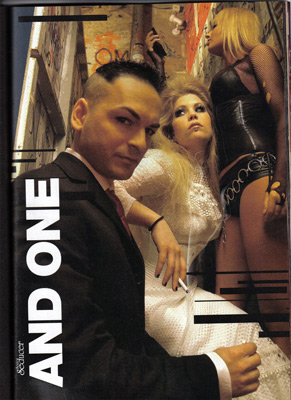 October 2005
Xarah is modeling for the legendary Xtra-X gothic fashion catalogue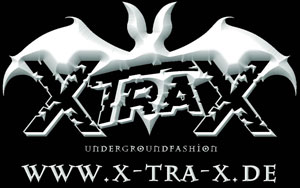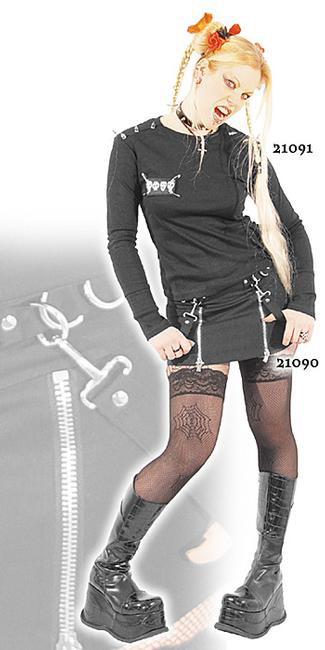 September 2005
shooting for the photobook of Stefan Gesell
Behind the Scenes VIDEO